---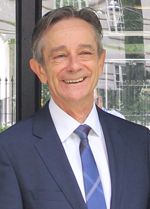 Roger T. Burlton P. Eng., CMC
is the
President of Process Renewal Group
(
www.ProcessRenewal.com
) which he founded in 1994 and was co-founder of BPTrends Associates (2008). He is the author of the pioneering book 'Business Process Management: Profiting from Process'. He was the lead author in the Handbook on Business Process Management, a compendium publication from Springer. He led the collaborative effort to produce the 'Business Process Manifesto', now available in 14 languages. Roger contributed to IIBA's BABOK version 3 in the area of business process improvement. His Business Architecture column in BPTrends.com and on LinkedIn is widely distributed and highly regarded. He is currently working with the Business Architecture Guild to bring a business process perspective to the Business Architecture Guild body of knowledge.
Roger is recognized as a world leader in the practical application of Business Process Management, transforming companies from traditional hierarchical organizations to process managed ones based on a Business Architecture model. He has led numerous initiatives to implement new business models, governance frameworks and process management capabilities for global corporations and government agencies on six continents. Roger developed industry leading models such as the IGOE (Input. Guide, Output, Enabler) and the Burlton Hexagon for Business Capability definition which he applies in his consulting practice.
In 1991 Roger developed and delivered the first Business Process and Business Architecture management classes in the world, certified today by universities in North America, Europe, Australia and South America and registered with IIBA as an official training source. To date he has trained over seventy thousand professionals in advanced analytical and architectural methods. He continues to chair the most prominent business transformation conferences in Europe and the US and around the world which he has done on over forty occasions. Roger graduated from The University of Toronto in Industrial Engineering and takes pride in teaching at various institutes of higher learning as guest lecturer.
For more information about Roger or
Process Renewal Consulting Group
, visit:
http://www.processrenewal.com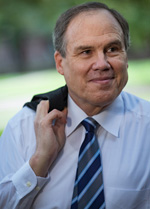 Ronald G. Ross, Principal and Co-Founder
of
Business Rules Solutions, LLC
(
www.BRSolutions.com
), is internationally acknowledged as the 'father of business rules'. Recognizing early on the importance of independently managed business rules for business operations and architecture, he has pioneered innovative techniques and standards since the mid-1980s. He wrote the industry's first book on business rules in 1994.
With BRS's client roster of Fortune 500 companies and governments, Ron consults, speaks and teaches worldwide. BRS specialities include business rules, concept models, business analysis, rule management, and business knowledge engineering. Ron is creator of RuleSpeak®.
Ron serves as Co-Chair of the annual Building Business Capability (BBC), official conference of the IIBA®. He was editor of the Business Motivation Model (BMM) standard and the Business Rules Manifesto. He is active in OMG standards development, with core involvement in SBVR. He was also a contributor to the IIBA's BABOK v3.
Ron is also the author of 10 professional books. His newest are:
•
Building Business Solutions: Business Analysis with Business Rules
(2nd ed, 2015) with Gladys S.W. Lam
•
Business Rule Concepts: Getting to the Point of Knowledge
(4th ed, 2013).
Ron is also executive editor of the
Business Rules Journal
, flagship publication of www.BRCommunity.com. Through the Journal, as well as social media and his blog, Ron enjoys sharing his knowledge and experience in consulting and other professional activities. Earlier he was editor of the ground-breaking Data Base Newsletter from 1977-1996.
Ron holds a B.A. from Rice University and an M.S. from Illinois Institute of Technology in 1974. Outside of work, Ron enjoys walking his dogs, traveling with his three children, and tweeting. For fresh nuggets of information, follow him @Ronald_G_Ross.
For more information about Ron or
Business Rule Solutions, LLC
visit
http://www.brsolutions.com.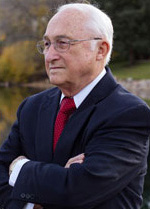 John A. Zachman
is the originator of the "Framework for Enterprise Architecture" also known as
The Zachman Framework
™ (
http://www.Zachman.com
) which has received broad acceptance around the world as an integrative framework, an ontology for descriptive representations for Enterprises. Mr. Zachman is not only known for this work on Enterprise Architecture, but is also known for his early contributions to IBM's Information Strategy methodology (Business Systems Planning) as well as to their Executive team planning techniques (Intensive Planning).
Mr. Zachman retired from IBM in 1990, having served them for 26 years. He is Founder and Chairman of his own education and consulting business,
Zachman International
®. He is also the Executive Director of the Federated Enterprise Architecture Certification Institute (
The FEAC® Institute
) in Washington, D.C., as well as the Chairman of the
Zachman Institute
™, a non-profit organization devoted to leveraging Zachman International's vast network of professionals and resources to offer services to small businesses and non-profit organizations as they prepare for and experience growth. Mr. Zachman serves on the Executive Council for Information Management and Technology (ECIMT) of the United States Government Accountability Office (GAO) and on the Advisory Board of the Data Administration Management Association International (DAMA-I) from whom he was awarded the 2002 Lifetime Achievement Award. In August 2015, Mr. Zachman was awarded a Lifetime Achievement Award for "recognition of his long term impact and contribution to how people think and practice Enterprise Architecture today, leaving his mark on generations to come" by the Global University Alliance and LEADing Practice. He was awarded the 2009 Enterprise Architecture Professional Lifetime Achievement Award from the Center for Advancement of the Enterprise Architecture Profession as well as the 2004 Oakland University, Applied Technology in Business (ATIB), Award for IS Excellence and Innovation as well as numerous other awards and international recognition.
Mr. Zachman has been focusing on Enterprise Architecture since 1970 and has written extensively on the subject. He travels nationally and internationally, teaching and consulting, and is a popular conference speaker, known for his motivating messages on Enterprise Architecture issues. He has spoken to many thousands of enterprise managers and information professionals on every continent.
For more information about John or the
Zachman Framework
visit:
http://www.zachman.com